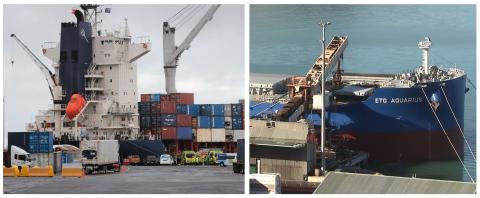 The Transport Accident Investigation Commission has identified major safety issues that require the immediate attention of the NZ stevedoring sector.
The Commission today published its final report on two fatal accidents in April 2022. In the first accident, on 19 April at the Port of Auckland, a stevedore working on a container vessel moved under a suspended 40-foot container and suffered crush injuries when the container was lowered onto them. In the second, on 25 April at Lyttelton Port, a stevedore involved in loading of coal onto a bulk carrier was discovered, deceased, buried under coal on the deck of the vessel.
The Chief Investigator of Accidents, Naveen Kozhuppakalam, says the report identifies broad safety issues for the whole stevedoring sector in three areas – regulatory activity, cohesion in the stevedoring sector, and individual employers' management of safety.
"The Commission wants regulators Maritime NZ and WorkSafe to do more to promote future safety across the sector. They need to take a 'just culture' approach, provide insight, promote information sharing and maturity in risk management, and encourage continuous learning.
"If regulators can do that, then it's more likely that stevedoring will be able to make progress towards operating more like businesses in other high-risk industries, where training, qualifications, and adherence to standards are part of business-as-usual.
"The Commission is recommending that Maritime NZ work with the stevedoring industry to develop and implement a risk management code of practice, minimum training standards, and ongoing improvements such as sharing of safety information amongst industry players.
"We need to move on from stevedoring organisations deciding for themselves how they will meet safety requirements. They receive insufficient regulatory oversight, lack industry-wide safety standards, and lack the formal safety management oversight and monitoring required of other industries. There is minimal proactive gathering and sharing of safety information, and too few appreciate the benefits of a good safety culture.
In Auckland, the stevedore's employer was independent stevedoring company Wallace Investments Ltd, and in Lyttelton the employer was the Lyttelton Port Company Ltd.
"While both stevedoring operations were working to improve their safety systems, each was weak in risk identification and mitigation, communication, and supervisory oversight. And while both companies relied on administrative risk controls, like rules and guidelines, to manage workplace risks, neither company knew how well workers were applying those rules.
"Employers can rely too much on administrative risk controls. They may seem attractive but it's a struggle to make them work. People become desensitised to risk, they take shortcuts or drift away from following rules, some of which are thought to be impracticable. Administrative risk controls only work with ongoing active safety leadership, good supervision, and a culture of safe working behaviour.
The Commission made one recommendation to Wallace Investments and two to Lyttelton Port Company.