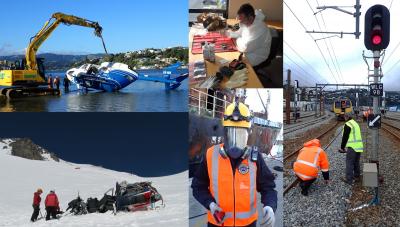 Accident investigation is a highly specialised and time critical task involving expertise in a wide range of disciplines – and skilled accident investigators are pivotal to the Commission's successful performance.
We advertise staff vacancies on this page and on a number of other sites relevant to the positions required.
In general, key competencies and capabilities for accident investigation include:
Excellent communication skills – and be able to write to a high standard
Strong problem solving skills
Analytical capability, with very strong attention to detail and accuracy
An innate ability to think logically, anticipate risk, and identify solutions
Proven project management skills 
Outstanding relationship management skills
Energy and vigour, balanced with diplomacy and tact.
Given the nature of this work, you must be medically and physically fit, and be able to handle stressful and emotionally difficult circumstances. 
While relevant investigative qualifications are desirable, the successful candidate will undergo extensive, world class specialised training in accident investigation. This is part of the supportive and development focused environment at TAIC. A typical job description for a Transport Accident Investigation Commission Investigator is available at right in the Document downloads box.
All positions are based in Wellington New Zealand.
Only people with the right to work in New Zealand may apply. For advice on obtaining a New Zealand work or residence visa visit www.immigration.govt.nz. 
---
Current Vacancies at TAIC
Advisor, Investigation Services
Exciting new role in the world of accident investigation! 
Business process and project co-ordination focus 
New Central Wellington office
Ko wai mātou – About Us
The Transport Accident Investigation Commission (TAIC) investigates significant aviation, rail, and marine accidents and incidents with a view to avoiding similar occurrences in the future. 
The Commission has set a visionary goal of "No Repeat Accidents – Ever!" 
Our values shape how we work and deliver our outcomes: 
Hunga Whakarāmemene – One Team 
Whakahī akoranga – Pride in our professionalism 
Whakaute ki nuinga – Respect for others. 
We respect the principles of Te Tiriti o Waitangi and are dedicated to diversity, equity, inclusion, health, and wellbeing. 
Ngā kawenga – About the role
The Investigation Services team sits at the core of our operation – a group of highly skilled specialists who together, investigate significant air, rail, and marine accidents and provide safety recommendations for operators and the wider sector.
As Advisor, Investigation Services you'll report directly to the Chief Investigation of Accidents (CIA) and provide co-ordination, advisory, and support services to the investigative team. 
You'll have several areas of responsibility - including managing the Investigation Case Schedule and providing support to the Chief Investigator of Accidents (CIA) on investigation deliverables, working with the CIA to ensure appropriate workflow and processes, and that all the frameworks are in place regarding the investigators training, certification, development and wellbeing programmes. You'll ensure documentation and resources are in place, prepare and co-ordinate reporting, support investigation meetings, co-ordinate gear, investigation travel and events, and play a project co-ordination or lead role for projects. 
You'll become the go-to person for these elements that surround the investigations team, with your finger on the pulse of the unit's operation. 
This is a newly created role and an awesome opportunity for you to really invest in the role and make it your own. The work this team does is incredibly interesting, and you'll play a key role in ensuring that workflow and the processes around it, provide optimum operation.
Ngā pūkenga me ngā wheako – Skills and experience 
Ideally, you'll have experience in the areas of business process, project co-ordination, and process mapping, with Lean Six Sigma certification. 
In addition, you'll also have:
excellent attention to detail and take pride in producing highly accurate and consistent work 
great communication skills – both verbal and written, and able to write well in plain English
excellent relationship management skills - able to work with, and relate to, a wide range of people 
knowledge, or a willingness to learn, about te Tiriti o Waitangi, Tikanga, te reo and te ao Māori
outstanding organisation and co-ordination skills
sharp analytical and problem solving skills
agility, and able to be cool under pressure to cope with the peaks and flows of the work.
You'll be a tech savvy, curious person who can take a deep interest in the work of the wider Investigation Services team to fully understand their roles and the part you play in that, and thereby able to anticipate need. 
You'll have a continuous improvement mindset and able to spot inefficiencies and things "not adding up" and be pro-active in finding solutions. You'll take pride in ensuring documentation, processes, support, tools etc, are all ship-shape and fit for purpose, take full ownership of your areas of responsibility, and become the expert in advisory services to the Investigations Services team, and the Chief Investigator of Accidents.
In return, this is a role you can really develop and own, and be an integral part of a great team. You'll have development opportunities and enjoy a family friendly and supportive organisation which puts resource into developing you - and is an organisation clearly focused on the safety of New Zealanders and the avoidance of repeat accidents. 
Utu ā-tau – Salary 
Appointment will be within the salary range of $82,400 - $123,600, and is complemented by a package of benefits.  
Me pēhea te tono – How to apply
We've partnered with people&co for this role – so for further information, please contact Jacaleen Williams at People&co on 04 931 9450, quoting job number 373593.
A detailed job description is available at peopleandco.nz/jobs/ 
To apply, please visit peopleandco.nz and click APPLY. Applications close at 5pm on Monday 9 October 2023. 
To be eligible to apply you must have the legal right to live and work in New Zealand and meet any entry requirements if you're outside the country. For advice on obtaining a New Zealand work or residence visa and our entry requirements, visit www.immigration.govt.nz.