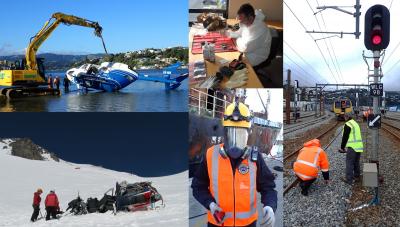 Accident investigation is a highly specialised and time critical task involving expertise in a wide range of disciplines – and skilled accident investigators are pivotal to the Commission's successful performance.
We advertise staff vacancies on this page and on a number of other sites relevant to the positions required.
In general, key competencies and capabilities for accident investigation include:
Excellent communication skills – and be able to write to a high standard
Strong problem solving skills
Analytical capability, with very strong attention to detail and accuracy
An innate ability to think logically, anticipate risk, and identify solutions
Proven project management skills 
Outstanding relationship management skills
Energy and vigour, balanced with diplomacy and tact.
Given the nature of this work, you must be medically and physically fit, and be able to handle stressful and emotionally difficult circumstances. 
While relevant investigative qualifications are desirable, the successful candidate will undergo extensive, world class specialised training in accident investigation. This is part of the supportive and development focused environment at TAIC. A typical job description for a Transport Accident Investigation Commission Investigator is available at right in the Document downloads box.
All positions are based in Wellington New Zealand.
Only people with the right to work in New Zealand may apply. For advice on obtaining a New Zealand work or residence visa visit www.immigration.govt.nz. 
---
Update 6 April:
TAIC is hiring a ... 
Senior Advisor - Human Factors
TAIC is seeking an experienced human factors expert to join this highly skilled team. 
You'll have the opportunity to apply your expertise, shape the role, and contribute across TAIC's three transport modes -- air, marine, and rail.
Our ideal applicant will be able to bring to the role: 
Proven practical experience as a human factors advisor in the transport sector.
Excellent communication skills, able to communicate clearly both orally and in writing to technical and non-technical audiences 
Outstanding relationship management skills 
Energy, vigour, and the ability to work collaboratively across teams. 
Appropriately degree qualified
Investigation experience would be an added bonus. 
The Senior Advisor Human Factors will be on-site with the accident investigation team, so a high degree of medical and physical fitness is required, coupled with the emotional and psychological maturity to handle emotionally difficult scenes. 
This is an excellent opportunity to bring your human factors expertise to be a part of this supportive and highly skilled team, within an internationally regarded organisation focused on "No Repeat Accidents - Ever!"
To apply for the job, Visit this page and hit the 'Apply Now' button.
Applications close at 5pm on Monday, 12 April 2021. 
All applications will be acknowledged electronically.
To be eligible to apply you must have the legal right to live and work in New Zealand and meet any entry requirements if you're outside the country. For advice on obtaining a New Zealand work or residence visa and our entry requirements visit www.immigration.govt.nz
Further information is available from TAIC's recruiter, Jacaleen Williams at People&Co on (04) 931 9450. Please quote job number 19695.