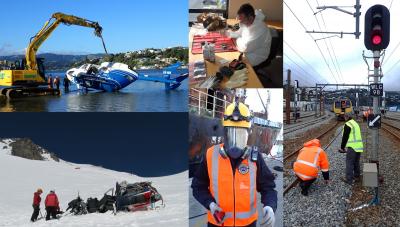 Accident investigation is a highly specialised and time critical task involving expertise in a wide range of disciplines – and skilled accident investigators are pivotal to the Commission's successful performance.
We advertise staff vacancies on this page and on a number of other sites relevant to the positions required.
In general, key competencies and capabilities for accident investigation include:
strong problem solving skills
an ability to anticipate and identify risks/issues and identify possible solutions
strong communication skills (written, verbal and interpersonal)
being skilled at developing logically sound arguments
analytical with very strong attention to detail and accuracy
project management skills
emotional and psychological maturity to handle stressful and emotionally difficult situations
diplomacy, tact and the ability to relate to a wide range of people.
While a relevant investigative qualification is desirable, specialist training is provided.
A typical job description for a Transport Accident Investigation Commission Investigator is available at right in the Document downloads box.
Only people with the right to work in New Zealand may apply. For advice on obtaining a New Zealand work or residence visa visit www.immigration.govt.nz
---
5 October 2020
TAIC has two open vacancies
Rail Investigator
We're seeking a rail expert to join this highly skilled team, based in central Wellington offices. For this role, our ideal applicant will be degree qualified and or have a significant civil and track engineering background, or traction and rolling stock experience within the rail industry. In addition, you'll bring with you knowledge of wheel/rail interface; and experience in derailment analysis.
Marine Investigator
We're keen to hear from you if you have sea going experience as a Master Mariner on a SOLAS class vessel. Alternatively, you might be an experienced chief officer with over five years' experience in: ship handling or pilotage activity; and/or as nautical surveyor of ICAS Classification Societies or as a Flag State Inspector; and/or safety, compliance, or risk management within the marine industry.