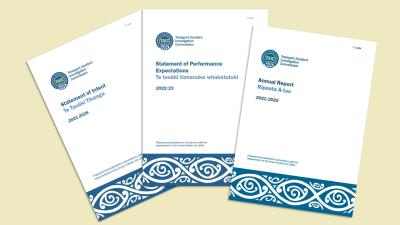 The Commission is mindful of its business model as an independent Crown entity, and its obligations to operate effectively and efficiently.
The Commission pursues its goal of 'No repeat accidents - ever!' through its investigations and findings, and, where appropriate, making recommendations to people and organisations that are able to change rules or practices to improve transport safety.
The Commission has set five strategic objectives to ensure it contributes to a safer transport system and meets its statutory obligations. These objectives are to:
Deliver sound, cost effective Crown entity performance
Develop and maintain responsive reciprocal stakeholder relationships
Share inquiry and entity information
Develop and maintain capable staff
Properly conduct investigations
Further information
As an independent Crown entity, the Commission is publicly accountable to the Minister of Transport (or designated Associate) and to Parliament for its strategy, funding and performance. For more information, Accountability Documents are available going back to 2000, including Annual Reports, Statements of Intent, and Statements of Performance Expectations.
TAIC prepares a Briefing to the Incoming Minister immediately prior to each general election, or when either the Minister of Transport or an Associate Minister of Transport (with delegated responsibility for the Commission) changes.
TAIC discloses its chief executive's expenses, gifts and hospitality costs every six months, as required of all State sector chief executives.