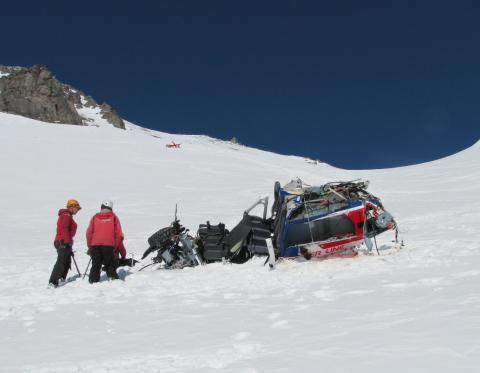 The fatal crash of a tourist helicopter on a snowy ridgeline in the Southern alps is the subject of a report issued today by the Transport Accident Investigation Commission (TAIC).
TAIC's Chief Commissioner, Jane Meares, says the accident happened as the AS350 helicopter operated by The Helicopter Line was approaching its landing site on Mount Alta near Mt Aspiring National Park on 16 August 2014.
"The helicopter went below the pilot's intended angle of approach, so the pilot turned it away from the ridgeline, but he couldn't avoid the terrain."
The helicopter struck the slope heavily; the cabin broke apart and five of the seven occupants were ejected as it rolled 300 metres down the mountain. One passenger was trapped under the helicopter and died. Everyone else suffered moderate to serious injuries. The helicopter was destroyed.
"The Commission found it was very likely that several of the passengers' seatbelts were not securely adjusted, which made it more likely that they would be ejected," said Chief Commissioner Meares. The Commission has asked the Civil Aviation Authority to remind aircraft operators and pilots to ensure occupants fasten and properly adjust their seatbelts.
"The helicopter was loaded about 30 kilos over the maximum permissible weight, and its centre of gravity was just forward of what was allowed, and was operating at or close to the performance limit for hovering in this situation," 
"There was no mechanical reason for the accident. The engine was delivering high power and the helicopter was controllable. The pilot was experienced and had trained in mountain flying and heli-ski operations," Ms Meares said.
The Commission identified two particular safety issues. First, the operator's pilots weren't routinely required to calculate the performance capabilities of their helicopters for the intended flights. Second, there was a risk of pilots not knowing their aircraft's capability when using standard passenger weights, and therefore a risk of exceeding the limits of their aircraft's performance. The report notes these two issues have now been addressed. 
The Commission also found that this accident and others suggest that a culture exists among some helicopter pilots in New Zealand of operating their aircraft beyond the published and placarded limits.  Such a culture adversely affects the safety performance of the helicopter sector. The Commission has recommended that the Civil Aviation Authority include this potential safety issue in its current helicopter 'sector risk profile' review
The full report is available for download from the Commission's website: https://taic.org.nz/inquiry/ao-2014-005