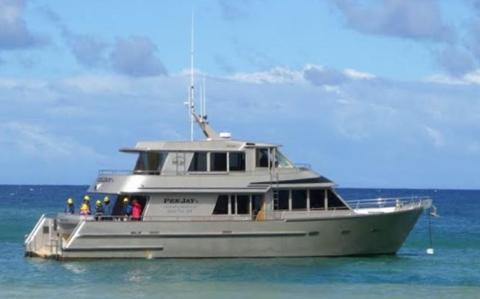 A tourist boat caught fire and sank because the main firefighting system was ineffective and staff did not fully understand how it should work, says a Transport Accident Investigation Commission report out today. 
In January 2016, the Pee Jay V, with 53 passengers and seven crew on board, was approaching Whakatāne Harbour after a day trip to White Island. A fire started in the engine room, quickly took hold, and the skipper ordered everyone off the vessel before it burned to the waterline and sank. 
Despite several passengers entering the water without life-jackets, everyone survived and escaped serious injury. Other boats arrived quickly and rescued all passengers and crew.
The Transport Accident Investigation Commission (TAIC) determines the circumstances and causes of transport accidents and incidents with a view to avoiding similar occurrences in the future, rather than to ascribe blame.
Chief Investigator of Accidents, Captain Tim Burfoot, says the Commission identified three key safety issues. 
"First, maritime rules didn't require the Pee Jay V to have a fire alarm. Second, the CO2 firefighting system failed because the engine room wasn't airtight. And third, the boat builder and its operator didn't fully appreciate how the CO2 system worked.
"For CO2 firefighting systems to be any use, the space has to be airtight and everyone involved should be fully trained and know how the system works."
"So, Maritime New Zealand has agreed to review its rules about fire alarms and remote extinguishers in vessels of this type with enclosed engine spaces. 
"MNZ has also agreed to encourage people who design, install and use CO2 fixed fire-fighting systems to fully document and understand how these systems work"