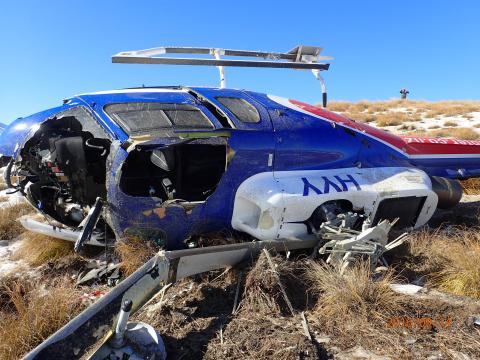 The non-fatal crash of a tourist helicopter on a Crown Range ridgeline is the subject of a report issued today by the Transport Accident Investigation Commission (TAIC).
In September 2016, an AS350-B2 Squirrel helicopter took five tourist passengers on a flight to Mount Sale in Central Otago. As it was landing, the helicopter struck the ground hard, finished substantially damaged on its side. One passenger suffered a minor injury.
Chief Investigator of Accidents, Captain Tim Burfoot, says the Commissioners found weight and balance were within limits, the aircraft was operating normally, and the pilot had the required training and experience for the flight.
"The two main reasons for the crash were that the landing approach was made with a tailwind when the pilot was expecting a crosswind; and the relatively fast, low and close landing approach may have limited the pilot's ability to correctly judge actual wind direction and usable escape routes."
Captain Burfoot said the helicopter's emergency locator transmitter was damaged in the crash.
"Although in this case the accident happened within cellphone coverage, the Commission is repeating its Watchlist advice for operators to fit Flight Tracking Devices. These devices provide a useful record of where an aircraft has been and its general location, which is a clear benefit for search and rescue"
The Commission's report notes this was the fourth serious landing accident in three years for operator The Helicopter Line. In response to the Commission's recommendations, the company had agreed to work with the Civil Aviation Authority on a review of its approach to safety policy, assurance, risk management, and promotion of safety.