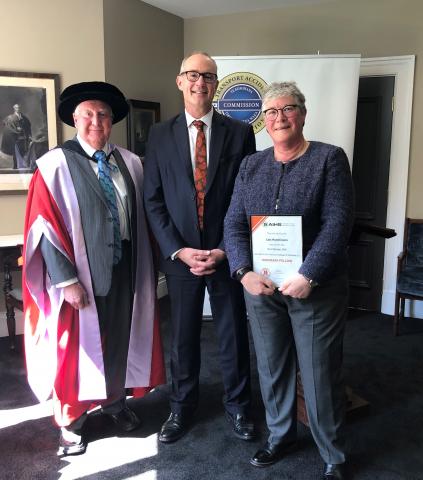 Transport Accident Investigation Commission chief executive Lois Hutchinson has been recognised for outstanding safety leadership by the Australian Institute of Health and Safety.
Presenting the award today in Wellington, AIHS College of Fellows Chair, Mr Kym Bills said the institute's first ever international honorary fellowship recognises Ms Hutchinson's successful leadership of TAIC to improve transport safety in New Zealand and internationally.
"Lois Hutchinson is being recognised for outstanding safety leadership, including through professional investigator training, systemic analysis of safety data, and her collegiate approach with other members of the International Transportation Safety Association."
"Ms Hutchinson has developed TAIC's capacity to undertake system-wide investigations by monitoring accident trends and targeting resources to repetitive or similar occurrences.
"In aviation, this has helped reduce helicopter accidents in New Zealand's alpine tourist regions.
"On land, a similar approach has led to a focus on rail-pedestrian level crossing occurrences where trends indicated a lack of attention by people crossing tracks. 
"Lois has ensured that TAIC has world class investigation capacity that can integrate with others should a major accident occur – such as assisting Pacific states that do not have independent investigative capability."
Transport Minister Phil Twyford complimented Ms Hutchison for TAIC's success developing crucial knowledge from transport accidents with a view to avoiding similar events in future.
"Lois deserves credit for her leadership role because safety is the Government's top transport system priority, and the knowledge produced by TAIC is helping to sharpen the safety focus across the whole sector."
Lois Hutchinson has been TAIC's chief executive since July 2005. TAIC's principal purpose is to investigate the circumstances and causes of accidents and incidents with a view to avoiding similar occurrences in the future.