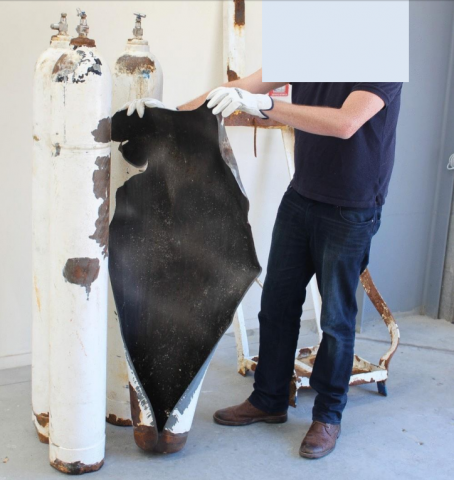 At about 0730 on 9 February 2016, the passenger cruise ship Emerald Princess berthed in Port Chalmers, New Zealand. Each lifeboat launching apparatus was fitted with a compressed nitrogen stored energy system that provided an alternative means of launching the lifeboat in the event of a power failure. Following maintenance, the crew were re-pressurising the compressed nitrogen cylinders on one of the launching appliances, when one of the bottles burst and fatally injured a crew member who was standing nearby.
Examination of the failed cylinder showed that corrosion had reduced the thickness of cylinder by about 75% at the point of failure. A number of other nitrogen cylinders were observed to have similar corrosion-related damage.
The nitrogen cylinders were inspected annually by the manufacturer's authorised representative, and the most recent inspection was two weeks prior to the accident. On each occasion the cylinders were found in satisfactory working condition. The Commission is concerned that there might be other pressure vessels part of the same system or similar systems that could pose a significant danger to seafarers and passengers.
The Commission recommended the manufacturer, as a matter of urgency, contact all known ship owners that have the same or similar emergency launching and recovery systems installed on their vessels, informing them about the circumstances of this accident, and advising them to have the systems inspected immediately by a competent person to check whether the nitrogen cylinders and other pressure vessels associated with the systems are fit for purpose.
The Commission also made recommendations to the International Association of Classification Societies, to the Cruise Lines International Association, and to the Director of Maritime New Zealand to contact all owners and surveyors of the same or similar systems and alert them to the circumstances of this accident and have the systems examined to ensure they are fit for purpose.