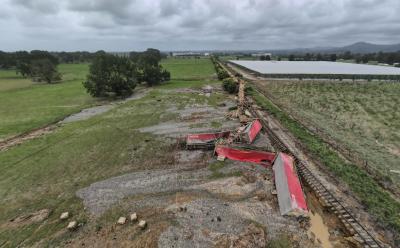 Freight Train, derailment, East Coast Main Trunk Line, near Te Puke, 29 January 2023
The reported circumstances were that Freight Train 360, operated by KiwiRail, suffered a derailment on the East Coast Main Trunk just east of Te Puke near Tauranga at about 4.30am on 29 January 2023.

The loaded freight train was travelling from Kawerau to Mount Maunganui when it passed over a section of track where part of the supporting embankment had been washed away by flood water. This resulted in the derailment of at least 10 wagons and significant damage to rail infrastructure.

No injuries were reported.

[As initially reported. Subject to change. Not official Findings].