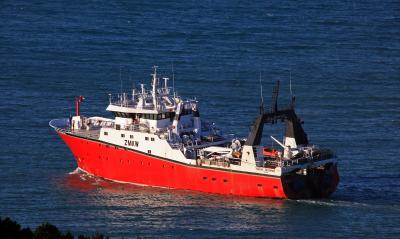 Factory fishing trawler, Amaltal Enterprise, engine room fire, 55 nautical miles west of Hokitika, 2 July 2021
What happened
On 2 July 2021, the factory fishing trawler Amaltal Enterprise was fishing off the west coast of the South Island, New Zealand. The main engine had been shut down to effect repairs to a low-pressure fuel pipe. About 50 minutes after restart, an accumulator installed in the main engine low-pressure fuel system unwound and dislodged from its pipe connector, allowing marine diesel oil at 8 bar pressure to jet upwards and ignite on the shrouded hot engine exhaust manifold.

The crew closed down the engine room and the fire was quickly brought under control without the use of the fixed Halon gaseous fire-smothering system. The vessel suffered extensive heat and smoke damage to electrical systems and had to be towed to a safe port for repair.

Why it happened
It is likely the accumulator dislodged due to any combination of the following factors.
• A lower-than-optimal torque being applied when fitting the connector into the accumulator during maintenance conducted approximately five weeks earlier by shore-based contractors.

• Vibration and resonance created by the machinery and propulsion system in the engine room.

• The 'loose fit' between the male thread on the connector and the female thread of the accumulator. Once the steel-on-steel connection between the two components was lost, lateral play between the two made the assembly more prone to vibration and afforded little resistance to the accumulator unwinding.

• The failure of the bladder within the accumulator meant the assembly was susceptible to pressure pulsing within the fuel system rather than achieving its purpose of absorbing these forces.

There was no support bracket or any other means of preventing the accumulator from dislodging.

What we can learn
It is important that repair and maintenance is performed under controlled conditions, such as following appropriate procedures for tagging out, checking, testing and signing off each task, particularly when working on safety-critical systems.

Forced and resonant vibration in engine rooms can be problematic. It is important that components are secured against vibration to guard against the loosening, chafe or wearing, cracking and (in extreme cases) destruction of components, particularly safety-critical components.

It is important that devices for disconnecting systems remotely are routinely tested to ensure that they function correctly during an emergency.

When responding to an emergency, it is important that crew fully consider the important elements of command and control, specifically, accounting for all crew and establishing good communications.

When a vessel has a fixed gaseous fire-extinguishing system, where the gas and associated release mechanisms are located in the space they are designed to protect, it is important that crew understand the longer they delay activation the higher the risk that fire will render these systems partially or fully inoperable.

Who may benefit
Vessel crew, ship owners, ship operators, flag administrations and surveyors.