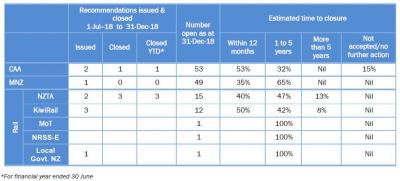 The Commission reports regularly on progress being made by recipients in implementing the Commission's recommendations. 
About this reporting series
The 6-Monthly Recommendations Reports are part of the government transport sector's collaborative reporting system, compiled by TAIC on behalf of the heads of the transport sector regulators (Civil Aviation Authority, Maritime NZ, and NZ Transport Agency). Links to these reports are in the Document Downloads section on this page.
The purpose of this reporting series is to update the Minister for Transport on the status of open recommendations issued by the Commission to the regulators, who are reporting progress as a matter of good practice. Thereby, it increases transparency and public assurance that recommendations are being managed. 
The reporting series illustrates how promptly the transport sector regulators are addressing TAIC's recommendations to help avoid accidents and incidents in the future. The regulators are in the strongest position to influence transport operators to take practical action to improve safety. Their influence may include compulsion in the event of rules or regulations not being followed, education to raise awareness of safety issues, and persuasion to implement safety-focussed actions. 
Other related initiatives and documents
The TAIC WatchList  augments this reporting series. It draws attention to transport-related concerns of high social, economic or environmental risk; systemic transport safety risks; and other issues that policy makers, regulators or operators have been slow to act upon.
The TAIC annual reports report performance against the preceding statements of intent. It also reviews key events or issues.