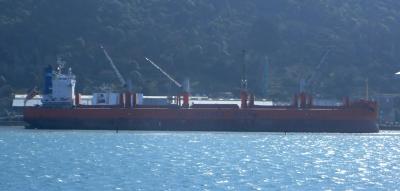 Bulk carrier, Molly Manx, grounding, Otago Harbour, 19 August 2016
At about 0600 on 19 August 2016, the bulk carrier Molly Manx arrived off Port Otago after an overnight passage from Lyttelton. A harbour pilot boarded the vessel at about 0630 and, after exchanging information with the master, the vessel entered the narrow channel taking it to its berth.

The Molly Manx was the maximum permitted length for vessels navigating the upper portion of the channel.

The vessel had just passed Port Chalmers and was approaching a narrow passage between two islands known as the Halfway Islands with the pilot conducting the navigation of the vessel. Two tugs were in attendance: one connected to the stern of the vessel and one ranging ahead of the vessel, waiting to assist.

As the vessel neared the Halfway Islands it deviated from the intended track and grounded on a sand bank. With the aid of the vessel's engine and the tug connected to the stern, the vessel was able to reverse off the sand bank, after which it was manoeuvred stern-first back to Port Chalmers for assessment.

There was no breach of the hull, and damage was limited to the bottom paintwork. Nobody was injured.

The Transport Accident Investigation Commission (Commission) found that the vessel grounded because the bridge team lost situational awareness. Because the bridge team was not adequately monitoring its progress using all available means, they did not realise that the vessel had deviated so far starboard from the intended track.

The Commission also found that: there was no formal shared understanding between the pilot and the vessel's crew on what passage plan would be used; the vessel's navigation equipment was not correctly configured for navigating in a narrow channel; and the standard of bridge resource management on the bridge leading up to the grounding did not meet good industry practice.

The Commission identified four safety issues relating to the standard of passage planning and the performance of the bridge team.

The Commission made three recommendations to the Director of Maritime New Zealand to address those safety issues identified

Key lessons arising from this inquiry include:
• there must be an absolute agreement and shared understanding between the vessel's bridge team and the pilot as to the passage plan and monitoring against that plan
• vessels' bridge teams must actively promote and use the concept of bridge resource management, including the incorporation of pilots into the bridge teams, to manage voyages properly
• a vessel's electronic chart display and information system (ECDIS) is an important system for monitoring the progress of the vessel and warning the bridge team when things could go wrong. It is essential that it be configured correctly for the phase of navigation and the proximity to navigation hazards.
Location
Otago Harbour (-45.824959,170.627828) [may be approximate]