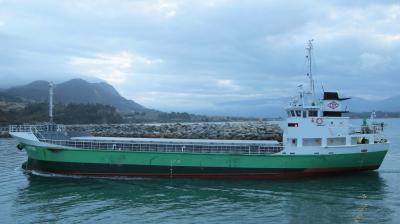 M.V. Anatoki, grounding, off Rangihaeata Head, Golden Bay, South Island, 6 May 2010
The Anatoki was a New Zealand-registered coastal cargo vessel on a short coastal voyage from Nelson to Tarakohe. The Anatoki departed Nelson at about midnight on 5 May 2010 and was due to arrive off Tarakohe at 0545 the next day.
On 6 May 2010 at about 0506 the Anatoki ran aground off Rangihaeata Head in Golden Bay, close to the Tarakohe Harbour. The mate on watch at the time was unaware that the vessel had run aground for at least another 10 minutes. The mate then spent several minutes attempting to refloat the vessel before advising the master of the grounding.

The Transport Accident Investigation Commission (Commission) found that the grounding occurred because the progress of the Anatoki was not being monitored at the time and that the performance of the mate on watch was probably impaired by acute sleep loss, possibly exacerbated by the consumption of alcohol the evening before, which is known to affect the quality of sleep.

The Commission made other findings relating to standards of safe ship management.
The Commission made a recommendation to the Director of Maritime New Zealand to check the quality of the company's safe ship management system.
Key safety lessons coming from this inquiry were: responsible watchkeepers should take the opportunity to have adequate sleep to prevent their becoming fatigued. under no circumstances should crew undertake safety critical tasks when impaired by alcohol. alcohol consumption can reduce the quality of sleep even hours after consumption stops.
Location
Port of Tarakohe (-40.794700,172.808800) [may be approximate]