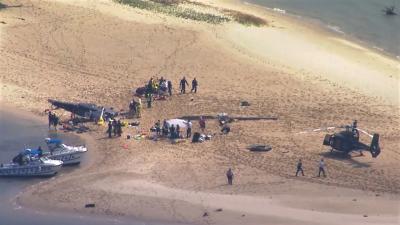 Mid-air collision, two EC130 helicopters near Main Beach, Gold Coast, Queensland, 2 January 2023
The New Zealand Transport Accident Investigation Commission (TAIC) is assisting an Australian Transport Safety Bureau (ATSB) investigation into a mid-air collision near Main Beach, Gold Coast, Queensland, on 2 January 2023.
It was reported that the two Eurocopter EC130 helicopters, VH-XKQ and VH-XH9, were below 500 feet above ground level near the Sea World helipad. After colliding, VH-XKQ collided with terrain, with four occupants fatally injured and three seriously injured. VH-XH9 sustained substantial damage and conducted a forced landing on the beach; six occupants were injured, one seriously.
ATSB's investigation is continuing and will conclude with a final report by ATSB.

TAIC is responding to ATSB's request (under ICAO Convention Annex 13) for New Zealand's assistance to gather evidence from New Zealand-based organisations. TAIC will also act as a liaison for the NZ citizens involved in the accident.
Location
Near Main Beach, Gold Coast, Queensland