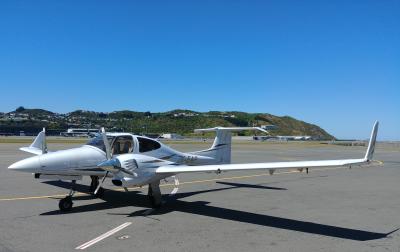 Diamond DA42 aeroplane ZK EAP, Controlled flight into terrain, Kaimanawa Range, near Taupō, 23 March 2019
What happened

On 23 March 2019, a four-seat Diamond DA42 aeroplane was being flown from Palmerston North to Taupō as part of a navigation flight originating from Ardmore.
Thirty minutes into the flight, while at 9,000 feet (2,745 metres) above sea level, the aeroplane was turned away from the planned track and the pilot made a 'top of descent' radio call to the flight information service. The aeroplane commenced a descent at that time.
At 2213, about eight minutes after the descent had commenced, the aeroplane struck terrain at about 4,500 feet (1,371 metres) and about 38 kilometres south of Taupō Aerodrome. The pilot and safety pilot were fatally injured.


Why it happened

The Transport Accident Investigation Commission (Commission) found that the pilot descended the aeroplane below the specified minimum safe altitude for the area in which the aeroplane was being flown, and a controlled flight into terrain occurred.

The Commission found that the pilot operated the aeroplane outside the parameters required for 'direct routing' navigation in uncontrolled airspace, when attempting to connect with an instrument approach from the en-route phase of the flight.

The Commission found no evidence that any malfunction of or unserviceability with the aeroplane, or any medical issue, contributed to the accident.

The Commission found that the aeroplane was equipped with a terrain proximity awareness capability but that it was very likely not used by the pilot.

The Commission found that weaknesses in the flight-authorisation procedures permitted pilots to conduct flights without the applicable authorisation, and therefore supervision, of senior instructors. This is what occurred in this case.

The Commission found that the pilot was licensed and rated to conduct flights in accordance with instrument flight rules and at night. However, both the pilot and the safety pilot had little experience in navigating at night under instrument flight rules. They were therefore subject to an increased level of supervision by the operator until they gained more experience.


What we can learn

The key lessons identified from the inquiry into this occurrence are:

• pilots, especially instructor pilots, should be fully aware of the parameters prescribed by the Civil Aviation Rules, including for navigating away from pre-planned and instrument flight rules- approved flight routes

• where possible, pilots should use and be proficient in the full capabilities of the flight instrumentation systems available to them. In this case, thorough training in the use of onboard ground-proximity conflict and warning systems, including the dimming of instrument and cockpit lights at night, would have enhanced situational awareness

• flight training schools should ensure that their procedures for flight authorisation and supervision are sufficiently robust to ensure that pilots can only conduct training flights after obtaining appropriate authorisation and supervision.


Who may benefit

Pilots, instructor pilots and flight training schools may all benefit from the findings in this report.
Location
22 nautical miles south-southeast of Taupo, Kaimanawa Ranges (-39.099166,176.044444) [may be approximate]