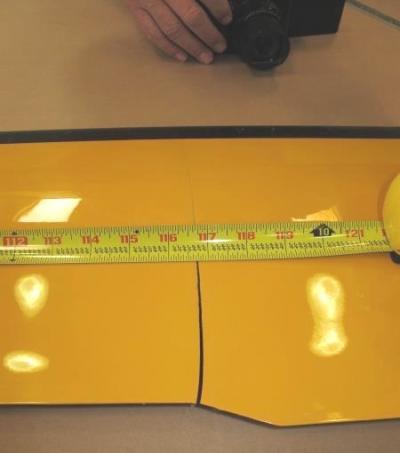 Robinson R44, Main rotor blade failure, Waikaia, Southland, 23 January 2015
On 23 January 2015 a Robinson R44 helicopter was being used to spray gorse near Waikaia. The pilot was making repeated spray runs and turning the helicopter through 180 degrees at the end of each run to position the helicopter for the next spray run.

The helicopter had just completed a turn when the pilot felt an unusual and significant vibration. The pilot landed the helicopter immediately and discovered a large crack in one of the main rotor blades.

The Transport Accident Investigation Commission (Commission) found that the point of origin of the crack in the main rotor blade had features consistent with metal fatigue, and that the crack was not the result of any manufacturing defects in the materials or in the construction of the blade.

The Commission also found that the helicopter had been operated primarily for agricultural flying, with the engine power likely to have exceeded the allowable limit at times. The types of turn used by the operator during spraying operations, especially when the helicopter was close to the maximum permitted all-up weight, likely subjected the main rotor blades to additional stresses not envisaged by the manufacturer.

The helicopter was not designed specifically for agricultural flying. The manufacturer had therefore not been required to consider the increased loads and cycles of agricultural flying when calculating the service life of the rotor blades.

A safety issue identified during the inquiry was that aircraft design organisations did not have to consider whether proposed major modifications to an aircraft would significantly alter the use of the aircraft or adversely affect the service life of any component.

The Commission recommended that the Director of Civil Aviation:
- consult the original equipment manufacturer when considering a modification or supplemental type certificate that, if approved, could result in any aircraft being used in a way that was significantly different from that which the manufacturer originally modelled and used as the basis for determining component fatigue life and the aircraft maintenance programme.

The key lessons identified during the inquiry into this occurrence were:
- metal fatigue occurs continuously in dynamic components. A fatigue crack can lengthen rapidly and the component lose its structural strength. If an unusual or severe vibration develops in flight, the pilot should land immediately and have the helicopter inspected before further flight
- the key to minimising stress in dynamic components is to fly conservatively, especially when operating close to the published weight, speed and power limits. The Commission has noted in previous inquiry reports that operating an aircraft outside the published limitations significantly erodes the safety margins factored into the service lives of components and can quickly lead to an early catastrophic failure
- operators and maintainers of aircraft that are subjected to cycles or flight profiles that are significantly different from those envisaged by the manufacturers when the aircraft were certificated should consider implementing shorter intervals for component inspections and earlier component replacement times.
Location
Waikaia (-45.716700,168.869000) [may be approximate]